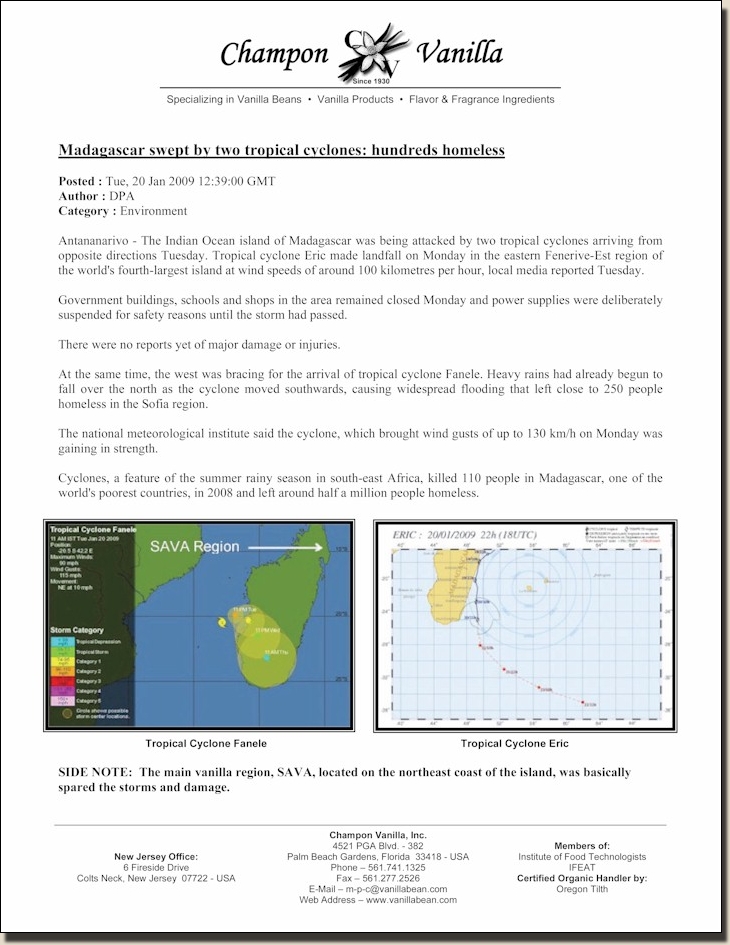 | | | |
| --- | --- | --- |
| | | |
| | Cyclones Fanele & Eric Update (January 20, 2009) | |
| | | |
Vanilla 2002

---

The long standoff between President elect, Marc Ravalomanana, and Ex President, Didier Ratsiraka, ends in July. Ratsiraka leaves Madagascar in July. President Marc Ravalomanana assumes his elected position and tries to rebuild the country. Prices for Grade 1 vanilla start out at $200+/Kg in January 2002. Then, prices for the same quality decrease to $130's/Kg in October, Cuts quality dips as low as $88/Kg. In November 2002, speculation begins and prices start to soar rapidly. Rumors are being spread about a short 2003 crop and again, the market becomes manipulated by a select few speculators. By January 2003, prices are again over $200+/Kg.
Vanilla 2001

---

Vanilla beans were limited in quantity. Prices were the highest ever and quality was the lowest we have ever seen. USA buyers were paying approx $140/Kg+ for the very low quality that was shipped from Madagascar. So called Grade 1 Madagascar vanilla seldom reached a vanillin content of 1.4%. The quality from Indonesia was also low, but often more economical.
Vanilla 2000

---

Vanilla bean prices in 2000 started out almost double of what they were the same time a year prior. Most dealers of vanilla beans were well aware of the direction the prices of vanilla beans were headed. However, the same could not be said for all the extract manufacturers.

Some of the manufacturers started to wake up a little after the big cyclone, Hudah, passed directly through the vanilla region of Madagascar. It wasn't long thereafter that prices started to jump even higher. The timing of this hurricane could not have been better for those who were long in stock looking to profiteer and worse for those who were short in stock who needed to buy. It is widely agreed upon that the hurricane did approximately 20±% damage to the vanilla crop (some permanent damage to the vines occurred, but, mostly beans were blown off the vines prematurely). The beans that were blown off the vines were not disposed of as they have a very high value at today's price levels. They will simply be cured (and recured if need be) to sell in this high market.
Vanilla 1999

---

We started to see vanilla bean prices significantly increase in 1999 while the imports of vanilla beans into the USA significantly decreased (compared to imports in 1997 and 1998). A few reasons why we saw an increase in prices are:

Previous crop inventories were diminishing.

Some dealers and manufacturers started to pre-finance the local exporters in Madagascar. A company would advance money to a supplier in Madagascar who would in turn buy vanilla for them on the local market. This pumped more cash into the local market caused the pre-financed exporters to get into price bidding wars that lead to increased prices on the local and world markets.

Large quantities were needed to cover long term contracts. In an attempt to control a larger share of sales in the USA market, one large dealer was making contracts with some extract manufacturers for as long as 3 years. This would force them to cover at almost any price, thereby, forcing prices to increase for everyone.

Smaller than usual crop in Madagascar and an exceptionally smaller crop from Indonesia.
Vanilla Beans - Vanilla Products - Essential Oils
If you would like to receive our monthly update, go to our "Contact Us" page and send us your request